Hawaii'splein air artist, art instructor and commissioned painter in Honolulu, Hawaii.
Hawaii Artist Mark N Brown - Hawaiian Fine Art
News Item

6 New Hawaii Art Original Images for Sale by Mark N. Brown
<!LIST2**1813/1**21814/2**21812/3**21811/4**21815/5**21810/6><!#994MultiTableStart>
2 Man Canoe Of Color
Ref. No.: 21813 ** Price: $3300 ** Size: 36" x 48" ** Inspiration: The "2 Man Canoe of Color" caught my eye as a paintable subject because it was dwarfed by all the larger racing canoes in Kailua, Oahu. Although it was smaller, it had a large presence and voice because of the space surrounding it and the other canoes were stacked visually against each other which became a blur, making the smaller one have a loud voice. More...

---

Broken Color Of Sherwoods
Ref. No.: 21814 ** Price: $3300 ** Size: 36" x 48" ** Inspiration: Sherwood Forest is in Waimanalo, on the Widward side of Oahu and as I painted this painting en plein air, it was a 3-stake day. As I anchor my large easel with construction stakes pounded in the sand to brave the winds and rain squalls. A 4 stake day tends to have more sand and pine needles from the Ironwood trees in my wet painting, but its a small price to pay to paint from a scene that Dr. Beach rates as one of the top 10 in the nation. More...

---

Hang Gliders View Of Makapu'u
Ref. No.: 21812 ** Price: $3300 ** Size: 36" x 48" ** Inspiration: "Hang Gliders View of Makapu'u" was done Plein Air from the guard rail ramp and lets me have a great vista. I envy the hang gliders that fly overhead , even at my elevation there is much to marvel at. I paint by stepping over the guardrail onto a little grassy platform which gives me a little space between the busloads of tourists that want photos of the area and me painting away . More...

---

In The Shadows Of Diamond Head
Ref. No.: 21811 ** Price: $2800 ** Size: 30" x 40" ** Inspiration: "In the Shadows of Diamond Head" was started as a demo for my Saturday Plein Air class with the University of Hawaii at Manoa Outreach College, I returned another day to finish it and it caught the eyes of surfers who would check on my progress before they went out to get wet. After their surf session, they did double takes to witness the positive progress, of course,the comments were in surf talk, "that is sick" , "that is bad, awesome", "bitching", "you get 'em!", thumbs up in their eyes. More...

---

Koko Head Nocturn
Ref. No.: 21815 ** Price: $5500 ** Size: 48" x 60" ** Inspiration: Koko Head was painted in full sunlight during a summer day and changed in the studio into a night painting as the moon appeared in one of the 2 sessions as I was finishing up my plein air work.
There was a City & County of Honolulu maintenance crew at Kuliouou Park named Les was always an encouraging presence when he would take care of the grounds. His son was in the arts, and Les wanted to paint in my class when he retired. The fishermen would wade onto the tide pools for tako (squid) and most times reminded me of myself when I paint, like fishing was a singular pursuit. More...

---

Lilipuna view of Kaneohe
Ref. No.: 21810 ** Price: $3300 ** Size: 36" x 48" ** Inspiration: Painting from the hilltop of Lilipuna Drive on the Windward side of Oahu affords me great sweeping views of Kanohe Bay and the Ko'olau Mountain Range. I did this Plein Air painting in two sessions, one of the range and the landscape, and then positioning my easel and canvas to take in the palm trees to include them in my artwork. More...

---
<!#994MultiTableEnd>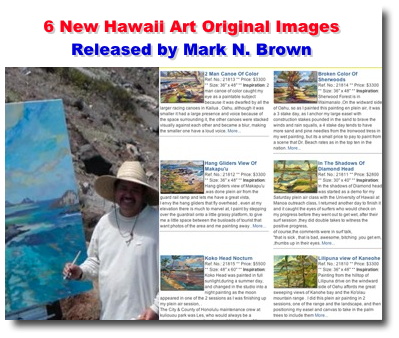 Featured Product/Service

FREE FRAME - Hawaii Art Online Special Offer
Every online image purchase (using our safe and secure PayPal shopping cart) will include a FREE frame with your artwork professionally set in the frame. Your artwork will arrive "Ready to Hang".
<!998Template_start>
<!998Template_end>
---
Please send questions about this website to