Hawaii'splein air artist, art instructor and commissioned painter in Honolulu, Hawaii
"I Love Kailua" Town Party 2019 Featuring Hawaii Art From Hawaii Artist Mark N. Brown - APRIL 28th 2019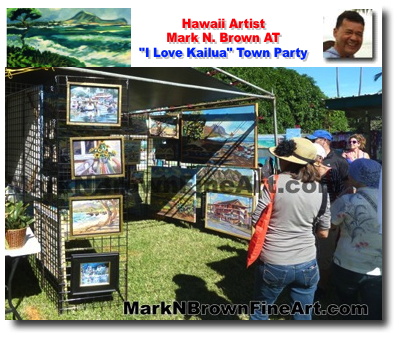 <!#43START>
The 27th Annual
"I LOVE KAILUA" TOWN PARTY
APRIL 28, 2019
11:00 AM TO 3:30 PM
MARK N. BROWN BOOTH - #TBA
IN THE HEART OF DOWNTOWN KAILUA
Hawaii artist Mark N. Brown is proud to participate and support the 27th annual "I Love Kailua" Town Party, taking place on Kailua Road. The event will featured food, shopping, entertainment and family fun. Over 50 Windward artists and hand crafters will have their work on sale.
Mark's will be featuring some great artwork from his Kailua Hawaii Fine Art Collection. See samples below.
A special event to support the Lani-Kailua Outdoor Circle
Click here learn more about the event
COME ENJOY THIS OLD-FASHIONED STREET FAIR
Here's a snapshot of last year 2018 2018 event!
RESTAURANTS
* Agnes Portuguese Bake Shop * Aloha Edibles *
* Big City Diner, Kailua * Coffee Bean & Tea Leaf *
* Frost Kailua * Grylt * Heart to Table *
* India Cafe Curry Factory * Nico's Kailua *
* Nosh Hawaii * Papa Dogs * Shaka Shrimp *
* Slush Puppie Hawaii * Tats Shaved Ice *
* Waimanalo Country Farm *
ACTIVITIES
Handmade Arts and Crafts from Windward Artisans * Plant Sales
Keiki Activity Center * Art in the Park
Collector "I Love Kailua" Town Party T-shirts and Buttons
COMMUNITY INFORMATION BOOTHS
FREE Health Screenings from Castle Medical Center
Kailua Fireworks * Kailua Historical Society * Kailua Neighborhood Board
Keep it Kailua * Blue Zones * Le Jardin Academy
Voter Registration * Friends of Kailua Library
NEW ~ LKOC's "Environmental Garden" Featuring:
How to build your own home-hydroponics system * Plant Care Techniques for the home gardener * New Community Forestry Pilot Project to plant and care for Kailua trees * Overview of Kawainui Marsh and the vital role this wetland plays in the health of our Kailua watershed.
LIVE ENTERTAINMENT
Patty's Hula Studio * Mihana Souza * Karlie Goya * Doug Fitch
US Marine Corps Forces Pacific Band
and more!
And a Huge Mahalo to our emcee for the event, Kit Beuret
********* WHY BUY A TOWN PARTY BUTTON? ********
Your Town Party button purchase helps raise funds for projects such as landscaping and maintenance of the public areas of Pohakapu, Kailua Road, Pali Palms Triangle, Kalapawai Triangle, and Alala (Lanikai) Point. So wear your button proudly in support of Lani-Kailua Outdoor Circle and the "I Love Kailua" Town Party.
Your button also gives you discounts at many Kailua businesses and restaurants in the weeks following the event.
Check back here in the week prior to the event for a list of the discount retailers.
******** WHERE TO PURCHASE YOUR BUTTON? ********
The following local merchants will have our 2018 "I Love Kailua" Town Party buttons for sale:
Hardware Hawaii ~ Kailua, Ben Franklin Crafts, Castle Medical Center
Buzz's ~ Lanikai, Kalapawai Market and Cafe, Cinnamon's
First Hawaiian Bank Kailua, Bank of Hawaii Kailua, American Savings Bank
Global Village, Mahina, Under A Hula Moon, BookEnds,
Red Bamboo, Island Treasures, Salon Vega
SEE YOU THERE!!
Mahalo to our generous 2018 sponsors!
Alexander & Baldwin
Castle Medical Center ~ Adventist Health
Buzz's Original Steakhouse ~ Lanikai
Hardware Hawaii ~ Kailua
Kalapawai Cafe
Windward Ford ~ Kailua
Windward Jewelers
John and Yvonne King
Kailua Sailboards and Kayaks


<!#43END>
Back to the top

MULTIPLE KAILUA - OAHU, HAWAII IMAGES AVAILABLE FOR PURCHASE OR COMMISSION BY HAWAII ARTIST MARK N. BROWN
Click on links below beautiful artwork
MARK BROWN HAWAII ART IMAGES
Click on link below learn about Mark's commission art services of sold images
<!#997MultiTitleStart>
CLICK ON LINK BELOW TO GET VOUCHER FOR DISCOUNT ON MARK'S ART AT LANIKAI CRAFT FAIR 2014!
<!#997MultiTitleEnd>

<!#997MultiTableStart><!#997MultiTableEnd>
Mark IS currently accepting new commissions.
<!#450IMAGESTART>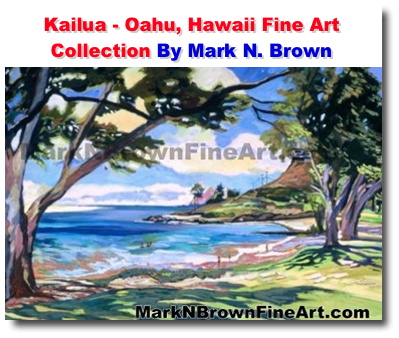 <!#450IMAGEEND>
Kailua town in Windward Oahu is a popular destination that attracts tourists to it's lovely beaches and locals like Mark N Brown, to its various picturesque spots for a day of painting and inspiration. From Kailua's many beaches, hills, tidepools and local canoes, Plein Air artist Mark N. Brown captures the beauty of this small town. Browse through his collection of paintings featuring scenes from the Kailua town in Honolulu, Hawaii.
Mark is one of the few Plein Air Artists in Hawaii and his paintings can be seen all throughout the Hawaiian Islands in private collections, Art Galleries, Fine Retail Shops and Government facilities. Browse through his collection and find out how you can own one today!
CLICK ON IMAGE TO VIEW BIG VERSION/DETAILS
. Here you can see all of Mark N. Brown sold artwork.
<!#994MultiTableStart>
Canoes At Kailua
Ref. No.: 18384 ** ** Size: 48" x 72" ** Inspiration: painting featured in American Savings bank calendar 2000 More...

---

Canoes Of Kailua
Ref. No.: 18403 ** Price: $5500 ** Size: 36" x 80" ** Inspiration: Canoes of Kailua was inspired by the paddlers who train daily over the course of the 3 days that I spent on location at Kailua beach. More...

---

Kailua Tidepools
Ref. No.: 18410 SOLD ** Price: $1400 ** Size: 24" x 36" ** Inspiration: This artowk inspired by the Kailua beach tidepools was painted down the hill from the Lanikai monument in Kailua. I am in my own world as I look upon all the activity before me. More...

---

Kalama Beach/ Kailua
Ref. No.: 18346 ** ** Size: 30" x 40" ** More...

---

Lanikai Hill Of Kailua
Ref. No.: 18405 ** Price: $5500 ** Size: 36" x 80" ** Inspiration: Lanikai Hill of Kailua was first started as a smaller painting,but because of the potential of the layout and inspiring views of Lanikai Hill in Kailua, I went back the next day with a door panel and enthused. More...

---

View Of Lanikai From Kailua
Ref. No.: 18373 ** ** Size: 36" x 60" ** More...

---
<!#994MultiTableEnd>
ref no:23827
Featured Product/Service
<!PDF LINK>
<!1S><!1E>
<!998Template_start>
<!998Template_end>
---
Please send questions about this website to