Hawaii'splein air artist, art instructor and commissioned painter in Honolulu, Hawaii.
Hawaii Artist Mark N Brown - Hawaiian Fine Art
News Item

15 New Hawaii Art Original Images for Sale by Mark N. Brown
Below is 15 beautiful new Hawaii art originals for sale by renown Hawaii artist Mark N. Brown. Many Images will be available at
Lanikai Spring Craft Fair 2015 - MAY 2ND 2015 - BOOTH A3 - 9am-3pm
THESE IMAGES WILL BE AVAILABLE AT "I LOVE KAILUA" TOWN PARTY - SUNDAY, APRIL 26, 2015 11AM - 4PM - STOP BY AND SAY HI! CLICK HERE TO GET EVENT DETAILS...
<!#994MultiTitleStart>15 NEW HAWAII ART ORIGINALS FOR SALE<!#994MultiTitleEnd>
<!#994MultiTableStart>
Canoes Of Kuliouou
Ref. No.: 23830 ** Price: $600 ** Size: 12" x 24" ** Inspiration: "Canoes of Kuliouou" was done during the day,
and it's equally good to paint a nocturne here, as the area is quite a ways from a lit area, so the stars and moon are shining. I read how navigator Nainoa Thompson would test out his celestial navigation by putting lights in the parking lot to align the stars, which drew the curious police. But Nainoa being a natural teacher gave them a good learning lesson on navigation. More...

---

Diamond Head Playground
Ref. No.: 23841 ** Price: $3800 ** Size: 36" x 60" ** Inspiration: "Diamond Head Playground" was done on location ten years ago on another canvas, which I sold. I went to the same location 2 weeks ago and the trees have grown so I couldn't see Diamond Head. I had to walk out to the Kapahulu groin wall and by going all the way to the end, I could get the similar view. I did a 12" x 24" study and did the larger one in my studio. More...

---

Hidden Kualoa
Ref. No.: 23839 ** Price: $1000 ** Size: 12" x 36" ** Inspiration: "Hidden Kualoa" was painted on a day when I had a lot of patience. When your painting the grays of the mountain when it's in shadow, then when the light opens the sky and shines on the mountain, it's as if nature was saying to me "Is that all the color you've got?" But its good to keep your cool and droll out a little color at a time, to honor nature and my patience. More...

---

Kaaawa Beach, Hawaii
Ref. No.: 23838 ** Price: $1000 ** Size: 15" x 30" ** Inspiration: I painted "Kaaawa Beach" when the neighbor elementary school was having a excursion day there, so there was a lot of excitement in the air. The kids would call out, "Hi Mr. Artist!" More...

---

Mokuli'i In The Shadow Of The Pali
Ref. No.: 23840 ** Price: $1000 ** Size: 12" x 36" ** Inspiration: As I start painting the B side of the island, I painted "Mokuli'i In The Shadow of the Pali" and was inspired and owe tribute to a great painter, Dennis Morton. He did a similar layout. Dennis was a 10-year apprentice to nationally known portrait artist, Richard Whitney. Dennis first exposed me to the valley of Kauloa Ranch and he did some Hercules-like paintings that are still ingrained in my brain. Awesome painter. Last I heard, he paints in Kauai and goes back and forth to Conn. Thanks Dennis! More...

---

Na Pali O' Ko'olau
Ref. No.: 23832 ** Price: $400 ** Size: 11" x 14" ** Inspiration: "Na Pali O' Ko'olau" (The Cliffs of the Ko'olau) was learned to me by doing the winning masthead design for Castle High School that was the title of the school newspaper. The pali is hard to miss but sometimes it's easy to as it gets shrouded in the mist. More...

---

Olapa Sandy's
Ref. No.: 23843 ** Price: $5500 ** Size: 36" x 80" ** Inspiration: "Olapa Sandy's" was painted in 4 sessions on the mid zone of Sandy Beach where surfing is permitted. Usually in the break, only bodysurfing is allowed but either way, they both get my respect. Olapa is used in Hawaiian Hula, as "in the style of" and the parade of warriors of men/boys, women/girls that take on the shore break is awesome! More...

---

Olomana, Hawaii - April 2015
Ref. No.: 23842 ** Price: $2800 ** Size: 36" x 36" ** Inspiration: "Olomana" was painted in 3 sittings. The first time, I was blown off the area by a series of strong winds. The group of women exercising (stroller strides) was seeing if I would stick it out, but we all left and I returned after getting my layout in. I used to pride myself on trying to finish in one sitting "Alla Prima", but I took the pressure off myself. Fellow Plein Air artist Mark Norseth would tell me, "Who says it has to be done in one sitting?" He was right. I also remember some of the laid back guys in high school would say "taaakkkeee ittt eeeaaasssyyyy!" More...

---

Red Hibiscus
Ref. No.: 23831 ** Price: $600 ** Size: 12" x 16" ** Inspiration: Painting "Red Hibiscus" reminded me of how a winning poem of mine in 4th grade won me a Hibiscus plant that my mom, Nancy, cared for and in a short time was transplanted out in the yard and bloomed flowers. Then I learned about caterpillars and butterflies! Awesome. More...

---

Regal Kualoa
Ref. No.: 23837 ** Price: $1000 ** Size: 15" x 30" ** Inspiration: "Regal Kualoa" refers to when in ancient Hawaii, sailing canoes would pass before the mountains of Kualoa and would dip their sales to honor the gods of Kualoa. When I stare at the mountains, I can see why the power was bestowed on them. More...

---

Sandy Beach / Blowhole 1
Ref. No.: 23835 ** Price: $800 ** Size: 16" x 20" ** Inspiration: On the day I painted "Sandy Beach/Blowhole", the spouting waves from the blowhole was going off and even from my distance, I could feel the ebb and flow of the tide from where I stood. It was humbling to feel its power. More...

---

Three Tables At Pupukea 3
Ref. No.: 23834 ** Price: $1000 ** Size: 15" x 30" ** Inspiration: "Three Tables" is an area I liken to the wild North Shore. It has a power to it, but it also has a quiet nature. It's a great place to chill when the other well-known areas are maxed out with people. A good place to paint. More...

---

Use The Mokes To Guide You
Ref. No.: 23829 ** Price: $600 ** Size: 16" x 20" ** Inspiration: "Use The Mokes To Guide You" was done on a hill top
from a great vantage point. I could see all the yellow kayaks paddling away trying to reach the mokes and the wind was doing its best to prevent them. They were using a paddle and all I had was brush, so it was easier for me. More...

---

Waimanalo, Hawaii - April 2015
Ref. No.: 23836 ** Price: $1000 ** Size: 15" x 30" ** Inspiration: I painted "Waimanalo" when Martin Pahinui was being interviewed about 50 yards in front of me about 2 weeks ago. It was probably for his dad's (Gabby Pops Pahinui) celebration which is today, 4/25/2015. A celebration to honor Gabby at Waimanalo Beach Park with other entertainers. I sometimes sing a song that he liked to sing, "I'm living on easy, with a bottle of whiskey, I have no money to suit my honey." Ahhh the life of an artist! More...

---

Waimea Bay, Hawaii - April 2015
Ref. No.: 23833 ** Price: $400 ** Size: 11" x 14" ** Inspiration: "Waimea Bay" is probably the smallest version that I have done of this site. Before I used to think that the size of the painting conveyed power, but it has nothing to do with the size. It is being able to lock into the inner strength of a painting, it's mana. In the case of making sure it has strong bones (structure), value and character, I am sure big wave riders can say the same thing about the power of Waimea Bay.
More...

---
<!#994MultiTableEnd>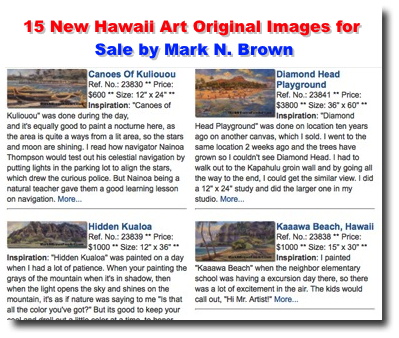 Featured Product/Service

FREE FRAME - Hawaii Art Online Special Offer
Every online image purchase (using our safe and secure PayPal shopping cart) will include a FREE frame with your artwork professionally set in the frame. Your artwork will arrive "Ready to Hang".
<!998Template_start>
<!998Template_end>
---
Please send questions about this website to