Hawaii's plein air artist, art instructor and commissioned painter in Honolulu, Hawaii

<!#450IMAGESTART>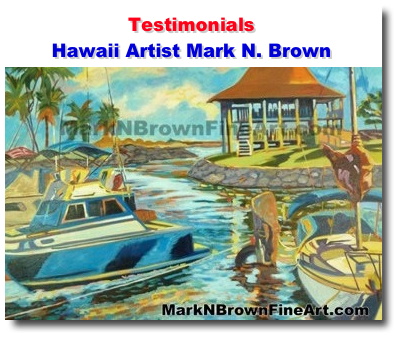 <!#450IMAGEEND>
Welcome to our testimonial page!
This page features testimonial for Mark N. Brown's Hawaiian art, art classes and Workshops as well as Hawaii Art.
Hawaiian Art Testimonials
Hawaiian Art Classes & Workshop Testimonials
Back to the top
<!#997MultiTitleStart>
<!#997MultiTitleEnd> <!#997MultiTableStart>

Kathy Sweeney
Date - 10/13/2016
Mark, I am enjoying gazing at your beautiful paintings! I have them proudly and happily hanging on my living room wall. Next Summer they will be moved to my mountain home in the Sierra Nevadas.

Love them!
Thank you again,
~Kathy Sweeney Click here to view image...
Kelley Fitzgerald
Date - 7/14/2014
I am absolutely thrilled to own my first, "Mark Brown" painting, not only because his paintings are valuable collector's items, but because of the beauty and joy it brings to my home. When it comes to plein-air painters of Hawaii, Mark Brown is the Master! I also call him the "Ironman painter" because he is the only plein-air painter I have witnessed braving high-winds and stormy weather on a regular basis in order to create his enormous door-sized masterpieces. It is a magical experience watching Mark instantly mix a multitude of brilliant pigments from just a handful of primary colors and brush on the rays of sunlight in just the right spots with only a few strokes. Having taken over 10 years of his "Painting on Location" classes, I can confidently state that he is a phenomenal artist, an amazing teacher, and a genuinely warm-hearted person with the utmost integrity.
Susan Stuart-Wilson
Date - 6/29/2015
The Chinatown painting that you gave now hangs in her office at the Harvard Admissions Office. She cherishes it at it represents one aspect of her ethnic background. Click here to view image...
<!#997MultiTableEnd>
Back to the top
<!#996MultiTitleStart>
ART CLASS & WORKSHOP TESTIMONIALS
<!#996MultiTitleEnd><!#996MultiTableStart>
Barbara Sumida
Date: 10/8/2016
Many people wish they could take a painting class but feel intimidated and just don't know where start. Mark is not only a talented and successful painter but he also has a gift for teaching and encouraging the inner artist in his students. His passion for plein air painting, many years of experience, and his genuine Aloha Spirit can't help but inspire. The class brings together a diverse and colorful group ranging from beginners to seasoned painters that learn from each other as well. Some of us have been painting in Mark's class for years not only because the learning never stops but because of the friendship and the joy of painting outdoors. You will set up your easel in places that you've never been to or haven't visited in a long time. It's good fun!
Yayoi Marshall
Date: 10/6/2016
This class is one of the best things happened in my life! I really appreciate the time to meet a cheerful, helpful, and kind teacher like Mark and also meet a nice group of artists in a relaxing environment outside.
Rachel / New York
Date: 10/4/2016
"I was in your class back in 2007 I think. I now live in New York City. I loved your class and gained many skills and greater confidence. I can still remember the peaceful feeling of painting with the class...if I lived closer, you would see me there! I think about how you told me there is lavender in shadows.... not so much in New York!
Kristen Olson
Date: 9/16/2016
You are the best teacher on Oahu!!
<!#996MultiTableEnd>
ref no:18240
---
Please send questions about this website to